Our Teachers
Our Teachers
Our teachers are government qualified Japanese language instructors. We have over 50 experienced and dedicated teachers with us.
Shimaki, Teruya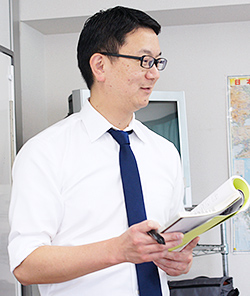 Chief Lecturer
in charge of teacher's training, graduate school preparation class, career guidance supervision.
I am here to support you with all I have.
Thank you for taking an interest in our Academy!
I am the Chief Lecturer at Yokohama International Education Academy. I am in charge of the GS (graduate school preparation) class and I supervise our guidance and counseling as a whole. You all have your dreams. They may be to further your studies or to find satisfying jobs. We understand that for most people, studying Japanese is a means to an end. We are here to help you acquire the Japanese skills you need to achieve your dreams.
Our Teachers

We are passionate. We are committed.
We strive to make our classes enjoyable and easy-to-understand. We are passionate about Japanese language education and we are committed to our students. Many teachers have over 20-30 years of experience and some bring with them experiences in corporate and other fields of work. Our diversity is what makes us your perfect doorway to Japanese culture and society.